In August, representatives of some of the organisations sponsored as a part of the community benefit sharing initiative for Mt Gellibrand and Mortlake South wind farms came together for morning tea celebrations with some of the ACCIONA staff.
Each year, ACCIONA provides funding to local community groups and organisations as a part of our annual Sponsorship Program.
The program is aimed at supporting initiatives that contribute to the sustainable development of the community.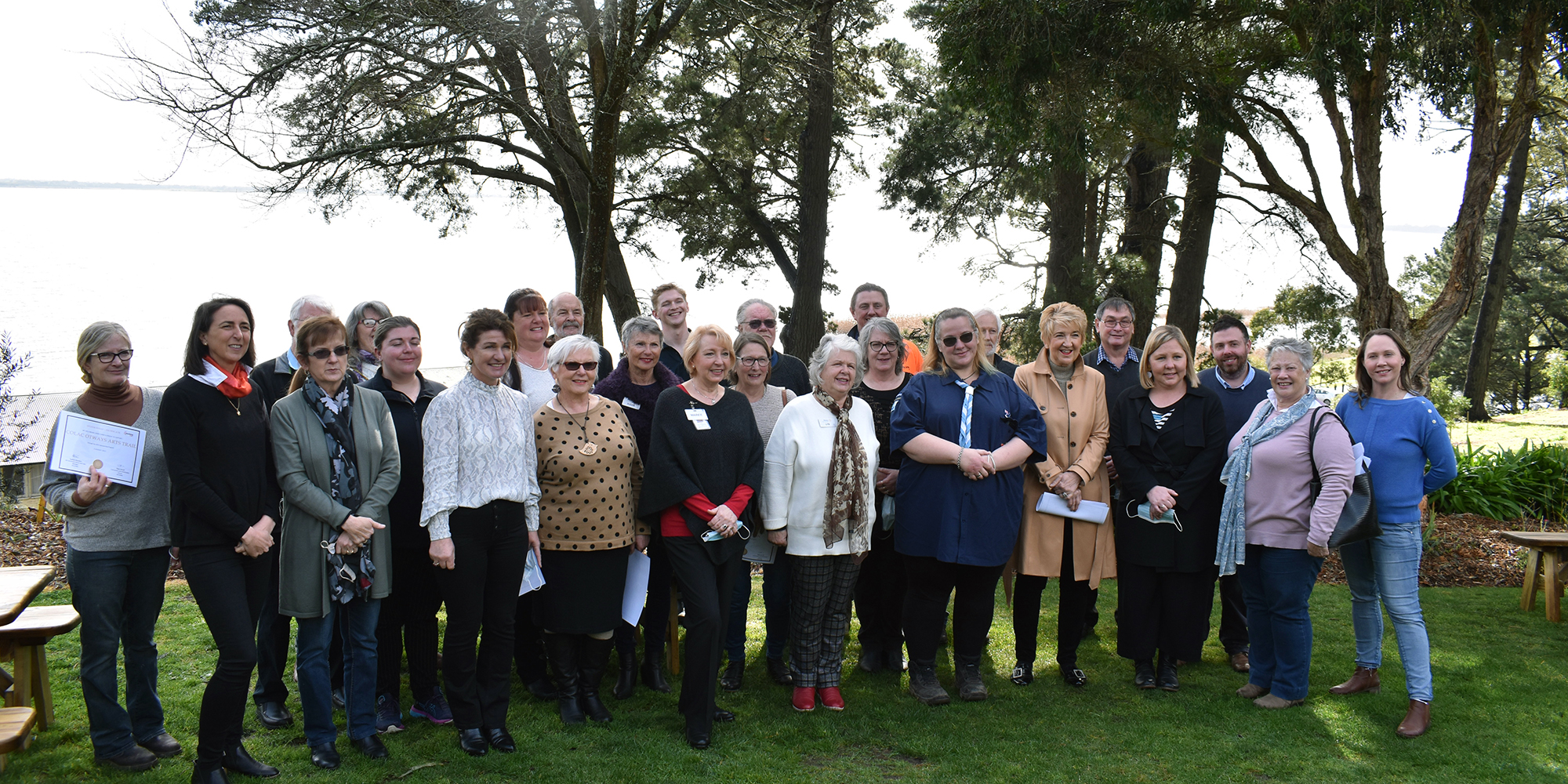 Contributing to Community
This year, ACCIONA has committed over $100,000 in sponsorship funding across 30 organisations for the Mt Gellibrand Wind Farm, and $40,000 in funding across 14 organisations for Mortlake Wind Farm.
Almost $14,000 of the Mortlake funding went towards schools and repeat funding for multi-year projects that are creating long-term legacies for the community. $23,500 of the Mt Gellibrand funding was shared amongst local sporting groups, including funding to help launch the new AFL Indigenous Round game hosted by Birregurra Football Netball Club, which has now unfortunately been postponed to next season due to COVID-19 restrictions. Another $16,000 of the Mt Gellibrand funding was distributed among local healthcare and social support organisations.
ACCIONA  Energía Managing Director Brett Wickham said, "we are really pleased that we can continue supporting the groups and organisations that do such important work in the communities."
"Over the past 18 months we have all witnessed first-hand the power of connections and coming together, so are extremely proud to be able to provide support for these important community initiatives to continue."
"Our sponsorship and small grants program will run for the life of the wind farm and we are excited about what the future will bring."
A list of successful organisations for Mt Gellibrand and Mortlake is listed below.
| | |
| --- | --- |
| Mt Gellibrand Wind Farm sponsorship recipients by Organisation | Amount |
| Anam Cara House Colac | $5,000 |
| Barking Spider Visual Theatre | $3,000 |
| Beeac Community Centre | $5,000 |
| Beeac Progress Association | $4,000 |
| Birregurra Community Markets | $4,216 |
| Birregurra Football Netball Club | $10,000 |
| Birregurra Landcare | $1,500 |
| Birregurra Preschool | $4,485 |
| Birregurra Primary School | $1,625 |
| Colac and District Chamber of Commerce | $5,000 |
| Colac Area Health Foundation | $5,000 |
| Colac City Band | $2,500 |
| Colac Golf Club | $3,000 |
| Colac Neighbourhood House | $3,470 |
| Colac Neighbourhood House | $2,000 |
| Colac Otway Arts Trail (Creative Otways) | $3,000 |
| Colac Otway Residents Action Group | $2,000 |
| Colac Otway Rovers Soccer Club | $3,000 |
| Cressy & District History Group | $5,000 |
| Dairy Australia | $1,500 |
| Irrewarra Beaac Football Netball Club | $2,000 |
| Irrewarra Cricket Club | $3,500 |
| Polwarth and District Tennis Association | $2,228 |
| Rotary Club of Colac | $2,000 |
| Rotary Club of Colac West | $4,500 |
| Second Colac Sea Scouts | $500 |
| Stoneyford Cricket Club | $2,500 |
| VICSES - Colac Unit | $3,500 |
| Warncoort Tennis Club | $2,500 |
| Warrowie Recreation Reserve | $3,476 |
Mortlake sponsorship recipients by Organisation

Amount

Terang College

$1,500

Crank It Racing

$1,000

Terang and District Historical Society

$879

Noorat & District Residents Association

$4,000

Mortlake College

$1,950

Camperdown Toy Library

$1,548

Mortlake College

$5,423

Athletics South West Vic Inc Turbines

$1,625

Noorat & District A&P
Society Inc

$2,500

Terang RSL

$1,240

WestVic Dairy

$2,500

Terang Uniting Church (Terang Art Show)

$5,000

Terang Bridge Club

$2,000

Terang Mortlake FNC

$2,000

Mortlake Mens Shed

$3,000

Terang & District Indoor Sports and Recreation Centre

$2,894